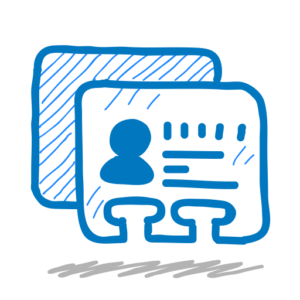 HOW DOES IT WORK ?
Fresh data is generated through dedicated webpages displaying our business partners' offers, including yours. If a site visitor is interested in your offer, we will give you a full set of contact details and further information about this visitor. Then it is up to you to use this information for your marketing and sales activities.
Yes, I'm interested in your offer, please contact me …
We only work with contacts that in a clear, indisputable and free will express agreement and consent to process their personal data by your company. We are able to provide the consents obtained in this way at any time to all generated contacts.
MAIN BENEFITS
All data comes from entities older than 18 years of age who actively express their consent to the processing of their personal data by a third party, such as your company.
All personal data are collected and processed in accordance with the special legal regulations of the Czech Republic, in particular Act No. 101/2000 Coll. on the Protection of Personal Data. In the sense of this Act, our client becomes the administrator of these personal data until the data subject has withdrawn his consent to the processing of his or her personal data.
We can target your ad based on demographics (gender, age, location) and optimize your campaign to deliver the best results.
In no case do we provide existing contact databases, but we create new contacts according to your requirements and the target group for which your products or services are intended.
Newly generated contacts can be immediately processed, the leads are transferred to your database in real time through the API. The earlier you contact the leads with the the offer they were interested in, the higher the conversion rate.
We can also mediate such data profiles when the user confirms his / her email address at the registration by clicking the link in the sent email, called double opt-in. So, you know that such a lead actively reads incoming marketing messages and is even willing to click on the link / creative in the inbox.
SPONSOR CAMPAIGNS
Our sponsor campaign creates a large databases of fresh leads in a relatively short time, depending on the demographic targeting of your campaign.
In our campaign, your company is listed as a sponsor. Your business logo and the full text of your business terms, or a privacy statement, with which the registered leads have to express their consent, are also posted here.
Leads deliberately provide your personal data for your company's marketing purposes, in full compliance with your privacy statement.
Registrant leads are also given the opportunity to express their disagreement with your terms or privacy statement. If this happens, no such lead will be transferred to you under any circumstances, which is ultimately beneficial to all parties.
Within the required volume and demographic targeting, you receive all the data generated by the sponsor campaign. Before the campaign start, it is absolutely essential to determine what data you are able to utilise for your marketing purposes so that we can optimize the campaign costs.
All data generated by a sponsor campaign within your defined target group is transferred to your database in real time. So, you have the opportunity to respond immediately and contact the leads by phone or send your personalized offer or newsletter.
CO-REGISTRATION AND CO-BRANDING
A co-registration or co-branded campaign generates contacts that target a particular brand, product, or service within a defined target group.
The co-registration campaign generates relevant and highly motivated leads willing to purchase your products or services.
The preview of your product or service is displayed only to those visitors of our webs which are within your target group. We can also design a campaign as an interactive questionnaire in order to collect exactly the information you need.
The image of your product or service will be displayed along with your product description, promotional claim, and a link to your privacy policy. At the same time, a check-box or a button will be placed on the ad, so that the page visitors can actively show their interest in the advertised product or service.
We only work with data subjects who actively expressed their interest in the product or service offered, and at the same time agreed to your terms of business or privacy statement.
Leads are only transferred to your database after checking the check-box (i.e. after expressing their interest in the product). The data are transferred in real-time, so you have the ability to respond instantly and do the sales call or send a specific targeted email offer.